What You Can Expect In A Group Session
Intensive bodywork
You'll take part in two 3 hour sessions a day. One session on the table being worked upon, and one session next to the table, being present for the other and yourself. Sometimes it is an even bigger experience to be next to the table rather than lying on it. These XL sessions allow you to get into every aspect that needs attention from different angles.
Note that only experienced practitioners will work on you, not other participants.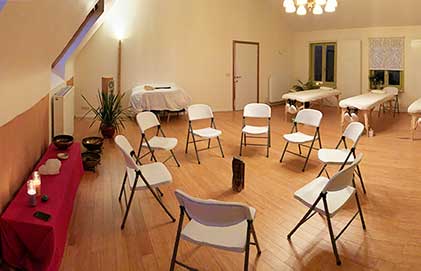 Personalised within a small group
A very small group of 2 to maximum 6 people, which allows for a lot of personal coaching while you still benef from the group container. Your personal process will be deepened by the dynamics at your table, and the dynamics of the total group.
Minimal talking, maximal feeling
It is bodywork, not talking therapy. You will be focused on the breath and the sensations in the body. The story is secondary. Being 100% present with these sensations is very powerful and will bring you release, insight and opening.
Still, during the work, sometimes you will be asked some questions and receive coaching to get you even deeper into your transformational process.
Supportive groupwork
We start the day with some movement or a (body-oriented) meditation, so you can leave behind the hassle of everyday life. At the end the day we share from the heart our experiences , and round up any loose ends that you might still have, so you can go home peacefully.
And a great supportive atmosphere, including delicious soulfood
The surroundings matter. So we offer the perfect space for such intensive work, and during multi-day retreats, we foresee healthy soulfood to keep your body nourished.
New to bodywork in a group setting? Read more...
You will have work carried out on the physical body, with pressure and movements on the skin, in a small group of 2 to 6 people. Check how this feels with you, and if this truly bothers you, you might prefer private sessions for now.

You will be lying down on a massage table, covered by one or more blankets, only wearing your underpants and if needed a tank top. The points worked are spread over the body, but not touching sexual areas.